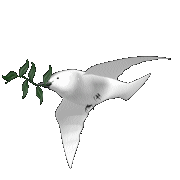 May peace find all the residents of this great and beautiful planet.
United we stand.

Welcome to my home page. I am glad you came for a visit. Please enjoy yourself and remember to always be happy.

A simple Poem
From now and forever,
May your mornings be filled with only good things,
May your afternoons be filled with wonderful happenings,
May your nights be filled with the sweetest of dreams.

A simple Wish
May the lord bless all who wish for freedom and believe in peace..

This site is a member of WebRing. To browse visit here.